Do you struggle with semicolons? Have trouble with hyphens? Cry over commas? If punctuation isn't your forte or you're looking to brush up your skills, we've got you covered with our guide to the best punctuation book in 2023 for US and British English.
There are lots of books about punctuation on the market. But it can be a complex and sometimes difficult area so it's important to get the right punctuation guide to help you improve. If you're a professional translator, writer or editor (or want to become one), you'll also want at least one good punctuation book to refer to when you need help.

Whether you're a writer or a student or just looking to communicate clearly, punctuation is key. But it's not always easy to understand. If you want to improve your punctuation and better understand the rules, we've got you covered. Read on for our guide to the best punctuation book in 2023 for both American and UK English.
DISCLOSURE: We sometimes review or link to products and services we think you might find helpful. Wherever possible we use referral links. This means if you click one of the links and make a purchase, we may receive a small commission or other compensation.
What are the punctuation differences between US English and British English?
Not everyone is aware of the punctuation differences between American and British English, but they have important consequences for your writing. Some of the key differences include use of the serial comma, the difference between parentheses and brackets, capitalisation after colons and the placement of punctuation with inverted commas.
The best way to learn all about the punctuation differences between US and UK English is to do our Punctuation Pro course, which will make you an expert on punctuation and allow you to add a certified punctuation course to your CV.
So, which is the best punctuation book in 2023?
There are different choices and we recommend you consider all the punctuation guides mentioned in this article. But, if you just want to get your punctuation book and start reading, here are our choices:
For US English: The Best Punctuation Book, Period: A Comprehensive Guide for Every Writer, Editor, Student, and Businessperson. Get it now.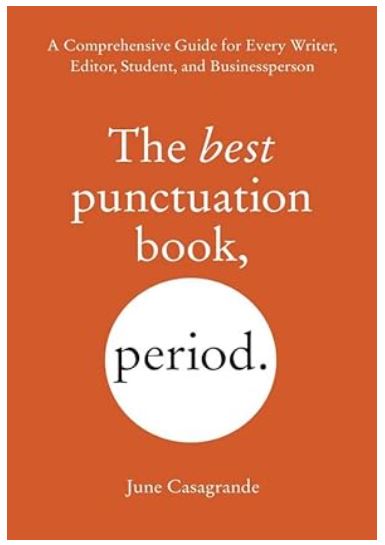 For British English: Eats, Shoots and Leaves. Get it now.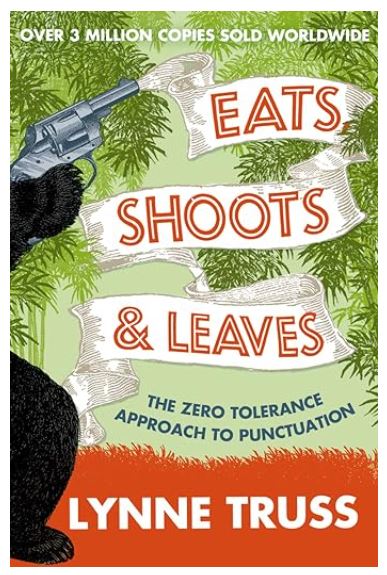 Read on for a more in-depth look and some other interesting options, including a guide for punctuating legal English.
How can I improve my grammar and punctuation?
There are some great books you can buy to help you improve your grammar and punctuation. We've had a look at some of the best books you can buy to use at home as a reference. They'll help you get a better handle on grammar and punctuation and write more clearly.
We're going to look at English punctuation in this article, but if you're studying or working with Spanish, you might be interested in this article about the differences between English and Spanish punctuation. Don't forget, on our blog we have lots of articles about writing and translation. Confused about how to punctuate bullet points for instance? Check out our posts and punctuation course.
The Blue Book of Grammar and Punctuation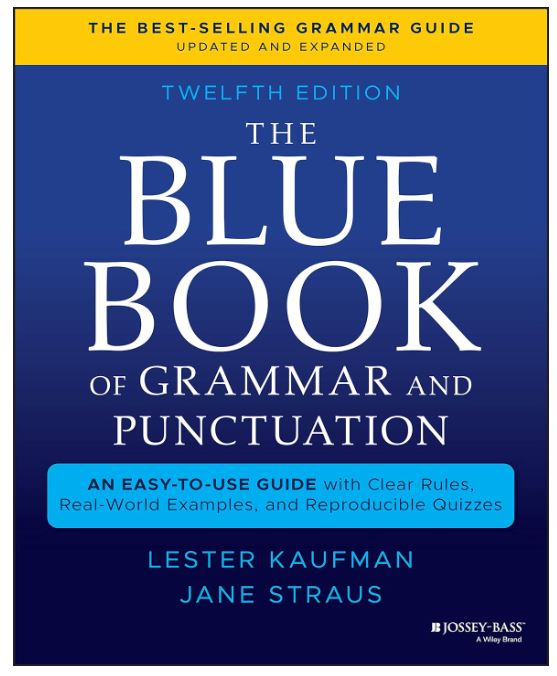 Many people say this is the best book for teaching English grammar and punctuation rules. Written by Lester Kaufman and Jane Straus, it has plenty of examples and makes the rules easy to understand. It's a simple, fun workbook that can be used by anyone interested in improving their grammar and punctuation. There are also quizzes so you can assess your progress.
The latest edition includes all the latest updates to English usage. It's ideal for use by children and adults alike. So, if you're looking for an all-in-one guide and workbook, this would be a great option. Get this book.
The Best Punctuation Book, Period: A Comprehensive Guide for Every Writer, Editor, Student, and Businessperson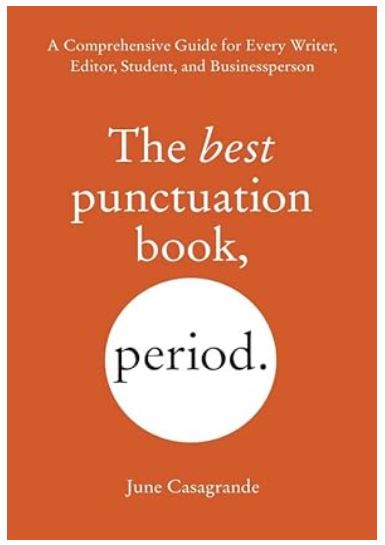 If you're looking for a punctuation guide focusing specifically on US punctuation, this book could be a good choice. It covers styles including AP (Associated Press), MLA (Modern Language Association), APA (American Psychological Association) and Chicago Manual of Style.
The writer, June Casagrande, is a columnist and her book deals with the basic rules of punctuation as well as covering the finer points. If you need help with confusing punctuation marks, this book has you covered. It also explains how punctuation rules differ depending on the publication, detailing how to write correctly for books as well as news, academic and science publications. Get this punctuation book.
The Penguin Guide to Punctuation 
As you'd expect from Penguin, this short reference guide is clear, concise and easy to use. If you need some guidance on full stops, commas, semicolons and more, this little book is well laid out and a great addition to your bookshelves. It'll boost your understanding and help you make fewer mistakes when writing. It has a conversational style and compares American and British English punctuation rules. Get the Penguin Guide.
Complete English Punctuation Rules: Perfect Your Punctuation and Instantly Improve Your Writing (The Farlex Grammar Book 2)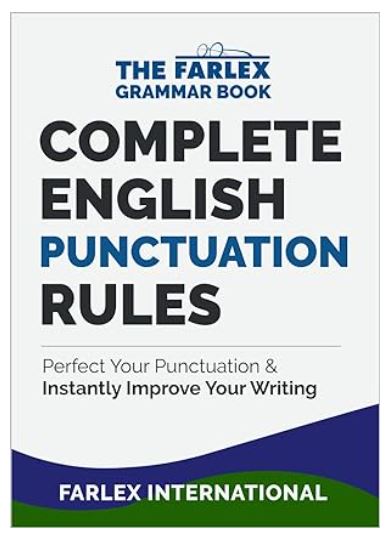 This punctuation book is from the publishers of Complete English Grammar Rules and creators of TheFreeDictionary.com. The guide offers easy-to-remember rules for all the punctuation mistakes you might make with examples of how to use each punctuation mark.
From full stops to commas, semicolons, colons, apostrophes, hyphens, dashes and more, you'll quickly learn how to use them all correctly. It explains how to punctuate dialogue and how to use possessives and plurals, and will give you the confidence to punctuate correctly. Get this book.
Master Legal English for Lawyers: English Writing, Grammar & Punctuation for Law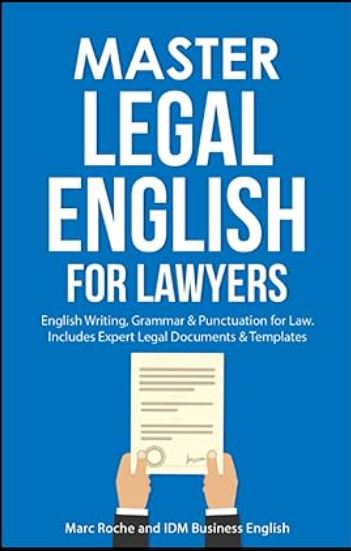 Looking for more specific punctuation guidelines? How about this guide to grammar and punctuation for legal writing? Correct punctuation is hugely important in contracts and other legal documents and this book includes guidelines to help to avoid any misunderstandings. Learn how to write clear, direct and well-organised sentences to ensure you always make a great impression.
The book examines language structures that often cause problems and uses highly targeted exercises to practise them. It also includes a wide range of legal templates to help you draft contracts and other documents correctly. Get Master Legal English.
Punctuation Without Tears: Punctuate Confidently – In Minutes!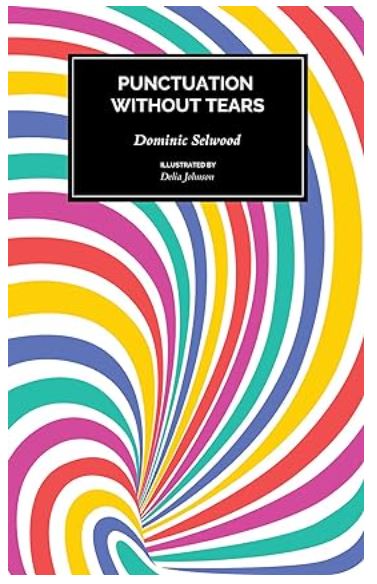 Another book that helps explain the differences between US and UK punctuation rules, this little book was described as "profoundly helpful" by The Independent newspaper. It's an illustrated guide to the basic rules of punctuation written by journalist and bestselling author Dominic Selwood.
It will suit anyone wanting to learn about punctuation and covers the punctuation you'll need for school, university, business, journalism or anywhere you need to write. It's a comprehensive guide written in an easy-to-understand, fun style and goes through all the main punctuation marks, explaining how to use each one.
The examples are funny and memorable and brought to life by zany illustrations. This punctuation book also differentiates between US and UK punctuation. There's no technical jargon and all the examples are clear and easy to understand. Get Punctuation without Tears.
Eats, Shoots and Leaves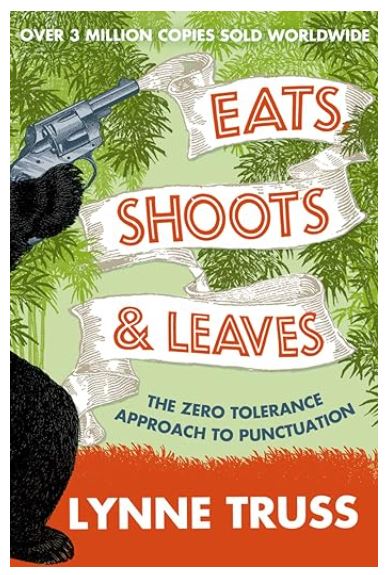 Featuring a foreword by writer Frank McCourt, this bestselling guide to punctuation takes a witty look at the importance of punctuation. Truss uses examples of bad punctuation from literature, history and signage to show how incorrect punctuation can have disastrous and often hilarious consequences.
The book runs through the history of punctuation. It explains the invention of the question mark and why George Orwell shunned the semicolon. But all the while making the case for the correct use of punctuation. More of a defence of punctuation than a guide to it, this book will help you understand the difference between good and bad punctuation and will keep you entertained in the meantime. Get this book.
Eats, Shoots and Leaves appears in our list of the best books for translators.
Easy Learning Grammar and Punctuation: Your essential guide to accurate English (Collins Easy Learning English)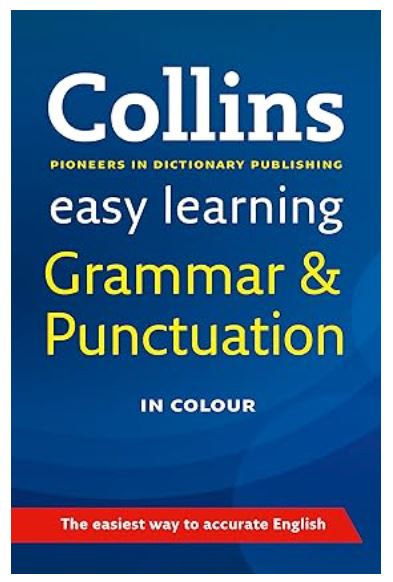 This Collins grammar and punctuation book is an affordable option if you're searching for a guide to demystify the basic rules of grammar and punctuation. It covers grammar points like adverbs and word order as well as punctuation marks like semicolons and apostrophes. It's been fully updated using extensive corpus research and will help you understand correct English usage.
Each punctuation point is described in a clear, easy-to-understand way, with examples from modern English usage. It's a real user-friendly option. Check it out!
Really learn and get certified with our 30-day punctuation course!
If you want to consolidate your knowledge of English punctuation (both US and UK English) and get a certificate to show potential translation and writing clients, check out our one-a-day Punctuation Pro course. By learning a little bit each day, you'll soon master English punctuation, and you'll have fun along the way!