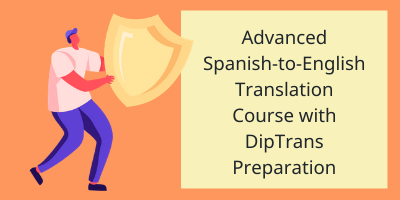 Advanced Spanish-to-English Translation Course with DipTrans Preparation
This course is currently closed. You're welcome to purchase it to start on 8 September 2021. Feel free to sign up here or email us for more information.
Details: advanced translation course page.
Please contact us before you buy so we can make sure that this course is right for you.
Single payment: €1299
Payment plan: €1339 (month 1 €500, month 2 €500, month 3 €339). Payment plan terms and conditions.
Payment options: bank transfer (contact us for account no.), debit/credit card (processed through Stripe).