Bridalwear is an important part of the fashion sector. Spanish designers in particular dominate the wedding-dress market. To carve out a niche, you need to know what brands like Pronovias, Rosa Clará and Jesus Piero are talking about. If you're translating Spanish-English fashion, here are some important bridalwear terms you should know.
The numbers speak for themselves
Spain is a world leader in bridal fashion. One of the most important bridal-fashion events is Barcelona Bridal Fashion Week, now in its 29th year. Spain makes 755,000 wedding dresses a year with an annual turnover of €507 million. With an average price of €1,729 per wedding dress, and representing 13% of the whole Spanish textile sector, bridalwear is a specialism worth investigating. So let's have a closer look at some key bridalwear terms.
Deconstructing the wedding dress
Obviously, when we talk bridalwear, what we're really talking about is the wedding dress (traje de novia) and main accessories. The basic components are fairly simple. There's the skirt (falda), sleeves (mangas), neckline (escote), train (cola) and, of course, the veil (velo). But don't get too comfortable just yet. It gets more complicated.
There are different fabrics, finishes and accessories. Even before we get to the dress, there's special terminology. When trying on a dress in a showroom, brides usually wear nothing except a kind of hooped underskirt (cancan) under the dress so the fabric sits correctly.
For our purposes of translating Spanish-English fashion for bridalwear, let's look at the different parts of a wedding dress and its main accessories.
Styles and skirts
Styles of wedding dress vary greatly, from traditional silhouettes to more modern styles. A popular style is the empire line (corte imperio) dress. This has a fitted bodice ending just below the bust and a full-length skirt.
Some wedding dresses have fuller skirts, such as A-line (evase) skirts. And there's currently a trend for overskirts (sobrefaldas), like this one from Pronovias, which in effect create two dresses in one. A more fitted style is the mermaid (sirena) style, sometimes called a trumpet dress. These are both fitted to about knee length and then flare out.
Do you know your chapel train from your cathedral train? Check this out if you're #translating Spanish-English bridal #fashion
Click To Tweet
A much more streamlined wedding dress might have a sheath or column (columna) style. The skirt could be pleated (plisado), as is often the case with an empire line dress, or it might have a draped (drapeado) look.
Other styles include fitted areas around the bust, maybe created by a corset (corsé) or bodice (corpiño). A current trend is for tattoo lace (efecto tatuaje) where lace is laid over tulle to look as if the lace floats over the skin.
More modern and perhaps less formal is the midi length (largo midi) dress. It's often worn for registry-office weddings rather than church weddings.There is a range of different fabrics and finishes for wedding dresses, from the simple to the highly intricate.
Necklines
There are lots of different necklines (escotes) for wedding dresses. Some of the most popular are Queen Anne (Reina Ana), off-the-shoulder (hombro caído/manga caída), strapless (palabra de honor), V-neck (escote en pico), teardrop (escote lágrima), sweetheart (escote corazón) and bateau (escote barco).
Fabrics and other details
Fabrics and finishes for wedding dresses range from the simple to the highly intricate. Of the more decorated, brocade (brocado) is a popular choice. It's a rich jacquard fabric woven with a raised design.
Wedding dresses are often embroidered (bordado) to create a decorative effect. Lace (encaje) and pailletes, which are basically flat sequins, are also common. Sometimes the decorative finish combines lace and sequins or uses beaded-appliqué touches.
Buttons (botones), which might be mother-of-pearl (nácar), and maybe a bow (lazada) or two can also feature. As can ribbons (cintas), fringing (flecos) or fretwork designs. The world's your oyster really!
Bridal trains
A train (cola) on a wedding dress is an extra length of fabric that extends from the dress and trails as the bride walks. Trains can vary in style and length. From a watteau train (cola de watteau), which is attached to the shoulders or bodice and drops down, to removable trains (cola desmontable).Pailletes vs sequins, brush up on your Spanish-English #fashion bridalwear #terminology #t9nCLICK TO TWEET
A sweep train (cola barrida) is a short train. It might not quite reach the floor, just "sweeping" it. It's good for outdoor weddings and mermaid-style gowns. The next longest is a court train (cola de corte), which is narrow train extending about a metre behind the dress. A bit longer is a chapel train (cola de capilla) at up to 1.5 m long.
Even longer (and more formal) still is the cathedral train (cola de catedral), sometimes called a monarch train. At between 2 and 2.5 m long it's ideal for a black-tie wedding and or dramatic venue. Like a cathedral for instance.
The longest and most formal train of all is the royal cathedral train (cola real). This can measure 3 m or more and the bride usually needs the help of her bridesmaids to move around and help her sit down. Princess Diana's wedding dress was an example of a royal cathedral train, a stunning 7.62 m of ivory silk taffeta!
Veils
Not all brides wear veils. As with trains, there are different lengths and sizes. The birdcage veil, sometimes called a velo francés or blusher corto in Spanish, is a short veil that covers only part of the face. (See below for more information about blushers.) A birdcage veil often reaches just as far down as the nose and can be made of French netting or tulle, and can be decorated with lace or sequins.
Veil lengths are described similarly to dress trains. So, we have cathedral and chapel veils, as with cathedral and chapel trains. A waltz or ballet veil (velo vals) falls between the bride's knees and ankles, but doesn't touch the floor.
A blusher (not translated in Spanish) is a portion of a veil that is worn over the face. The length can vary but standard one is about 70 cm from the comb. So it would fall to about where the bride holds her bouquet.Princess Diana's train was an example of a royal cathedral train, measuring 7.62 m.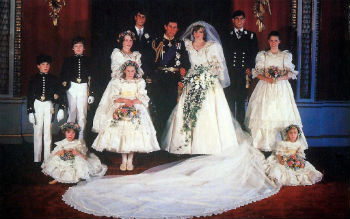 As we're discussing Spanish-to-English terminology, let's not forget mantilla veils. These are traditional Spanish lace or silk (seda) veils with a scalloped edge (borde festoneado) and have become very popular as wedding veils. They can be worn with a high comb (peineta) but the peineta is often not worn with a wedding mantilla, especially outside Spain.
But what about the groom?
This article has been about the bride and the wedding dress. That's partly because there is so much terminology about wedding dresses and their accessories! There's lots of interesting terminology for clothes worn by the groom and the wedding guests. For some introductory information to men's tailoring, check out my article "Spanish-English Fashion Translation: Personal Tailoring". And watch the blog for more articles about translating Spanish-English fashion.I hope you've found this article interesting and a useful addition to your arsenal for translating Spanish-English fashion. Sign up for our newsletter in the box to the right for more in this series about fashion translation terminology.