Why I Specialised in Fashion Translation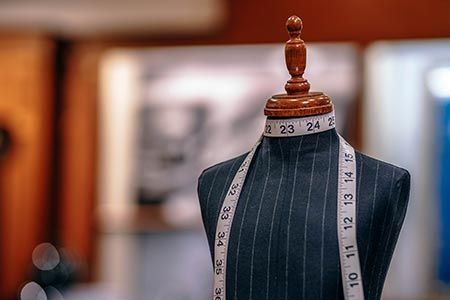 Would fashion measure up for you as a translation specialism?
As a translator, you've probably read a lot about the need to specialise. But what should you choose? Over time, fashion has become one of my specialist fields. This article is an introduction to why I work in fashion.
Why I work in fashion. Sounds so glamourous, doesn't it? Maybe I'm writing this from my Manhattan loft apartment, between a fashion show and meeting Anna Wintour for brunch? Not quite. A quick sandwich in a small home office is more like it. But fashion is my favourite bit of all the translation I do. And it's where I make the most of my money. What does it involve for me and why do I like it?
Variety – text types
When you think of fashion translation, what do you think of? Interviews with models? Writing press releases? Clothes descriptions? Well, translating for the fashion industry can involve all that and more. It's not just clothes. Marketing materials, contracts, staff training manuals, annual reports to shareholders. It's a huge industry and you could translate all sorts of different texts. Granted, a lot of my day-to-day work is clothes descriptions and press releases, but it's by no means all I do.
What does fashion #translation involve? Read this article to find out.
Click To Tweet
Variety: clients
Like many freelance translators, a lot of my work comes from translation agencies. Big fashion brands often use agencies for translation. Why? Because international brands need texts in a whole range of languages. Working with agencies means you don't have to go out there and find those clients. It also often means larger, longer-term projects. That helps with planning and cash flow. For more information about working with agencies for fashion translation, check out my previous article about the fashion industry.
But, there are direct clients in fashion translation, as with any industry. Granted, you have to get out there and find them. And then do all the work that goes along with keeping them. But find the right direct client and you can end up with some interesting projects and call more of the shots.
Brain power
One of the things I like about fashion translation is using my brain. Not only because of the variety of styles. One day it's clothes descriptions, one day it's high-brow prose. But also because I like learning. There's always a new word to learn. I like building up my glossaries with new terms. I enjoy seeing how those new words relate to one another. And I love that moment when I work out what that difficult term means. There also seems to be a lot of material online. Both for initial research and cross checking, once you've done some investigating.
There's always a new word to learn
Literary flair
It's not just about the intricate research into one or two-word terms. There's also a call for a more literary flair when translating fashion. Sometimes it's press releases singing the praises of a new collection. Other times it's more esoteric. Literary, even. But, there is plenty in the world of fashion translation to go around. If you prefer something meatier than "50% polyester, with welt pockets", it's there too. I've even translated part of a book about a fashion mogul's rags-to-riches life story. There were large sections about his rural childhood which needed a different approach. As well as the more predictably "fashion" bits about the trendy circles he later moved in.
Get the lowdown on working as a fashion #translator
Click To Tweet
Profitability
Get it wrong and fashion translation can be a dead end for making money. At the start, you can find you're not as profitable as you'd like. Especially if you're working on clothes descriptions. So many tricky terms you need to research. But, with the aid of a good CAT tool and some experience, these repetitive texts can make you decent money. As with anything, the key is good record keeping. You need to see what you are spending time on. If it's taking up so much time that it's not profitable then you take on work that is. But the scope is there to be profitable. For a great overview of pricing check out Gwen's recent article "39 of the Worst Pitfalls to Avoid With Translation Pricing".
As you build your portfolio, you can afford to pick and choose your projects.
Make fashion work for you
Specialisation gives you more control. You learn which projects will be more profitable. As you specialise, you make more contacts in your chosen field. And in related fields, perhaps contacts on the periphery of your industry. As you build your portfolio, you can afford to pick and choose your projects. Fashion translation encompasses a lot of styles. It's a specialisation that can lead you into other things. You have proven skills that are in demand in other industries. You can spread your wings in terms of profitability and enjoyment. And that's not a bad goal to have.
I can't promise a Manhattan loft or tickets to London Fashion Week, I'm afraid. But perhaps I have piqued your interest. Intrigued but still not sure if it's for you? Why not check out my on-demand ProZ webinar?
Fashion Translation – Is It the Right Specialism for You?
I guide you through fashion translation as a specialism, about what it involves and if it's a good option for you. Come along and join me!