Are you learning French? It can be hard to learn a language. Maybe you're studying on your own or having classes? Either way there are some great books out there to help you reach your goal to learn advanced French. Let's have a look at the best books to learn advanced French. Hopefully they'll help you on your language journey.
What is the best way to learn French?
There are many different ways to learn French. You can have French classes or live in France and immerse yourself in the language. You can use apps or buy books and study by yourself. Or you can combine all these methods together.
Can I learn French by self-study?
Not everybody has access to French classes and not everyone can go and live in France. Lots of students of French teach themselves at different stages of their language journey. Books are always a great addition to language learning, however you learn. They can supplement classes you have with a teacher and give you more in-depth knowledge and more practice. It doesn't just have to be grammar and vocabulary either, you can read for pleasure or use books to improve your writing skills.
Best Books for Advanced French Grammar
TOP PICK: Collins Advanced French Grammar with Practice Exercises by Sophie Gavrois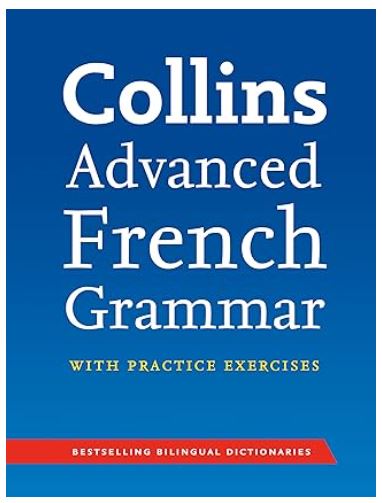 The Collins Advanced French Grammar has a user-friendly layout and detailed examples and translations. It's designed to help university students understand the complexities of French grammar. It's a comprehensive guide to the grammar you'll need to reach an advanced level in the language. Each chapter has practice exercises to reinforce what you've learned. Get this book.
Schaum's Outline of French Grammar by Mary Crocker
If you're the type of learner who likes to methodically work their way through exercises, then this straight-forward grammar book is the right choice for you. It isn't going to win any prizes for being the most exciting way to learn French grammar, but it'll be effective in helping you achieve your goal. Check out this book.
The Ultimate French Review and Practice by David Stillman and Ronni Gordon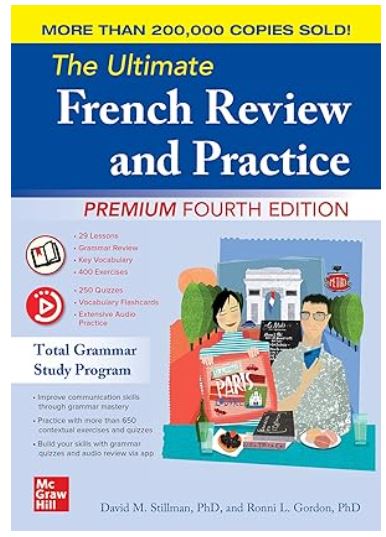 A great book for intermediate and advanced learners to revise French grammar. The book includes vocabulary, verb charts and "culture notes" with real documents in French. There's also a full answer section so you can check your work.
The concepts are explained with examples and there are lots of practice exercises to help you use the grammar in conversation. Check out The Ultimate French Review and Practice.
Can I learn French by reading books?
Reading is a fantastic way to learn more French. To ensure success, it's important to find a book that isn't too hard for you. That way, you'll see progression and feel motivated. Choose a book that you'd enjoy reading in English. This will make it more likely that you'll enjoy reading in French.
Translating involves reading deeply and is a great way to improve your French. If you're an advanced French learner, check out our Translation Conversion Course.
Best novels to learn Advanced French
Vernon Subutex by Virginie Despentes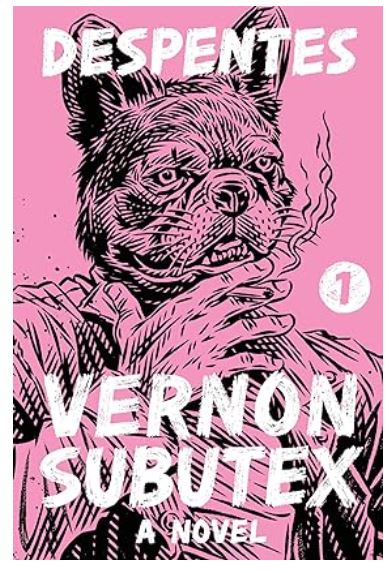 If you're looking for a challenging read in French, try the first in Virginie Despentes trilogy: Vernon Subutex. Shortlisted for the Man Booker Prize, it's a compelling social satire that examines the darkness of modern urban life. It's sure to boost your French vocabulary. If you get hooked, there are two more in the series! Check it out.
Nineteenth-Century French Short Stories (Dual-Language)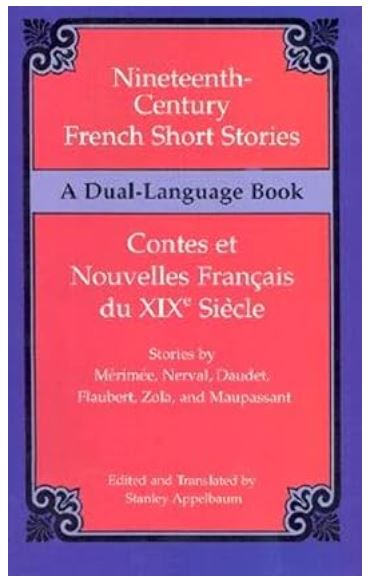 Instead of ploughing through an entire novel, this book is a collection of six short stories in French. Stories include "Mateo Falcone" by Prosper Mérimée, "Sylvie" by Gérard de Nerval and "La Mule du Pape" by Alphonse Daudet. Each story has side-by-side English versions and notes, making it a great choice for students of French translation. It's a great way to improve your French vocabulary without even trying. More on this book.
Candide, Voltaire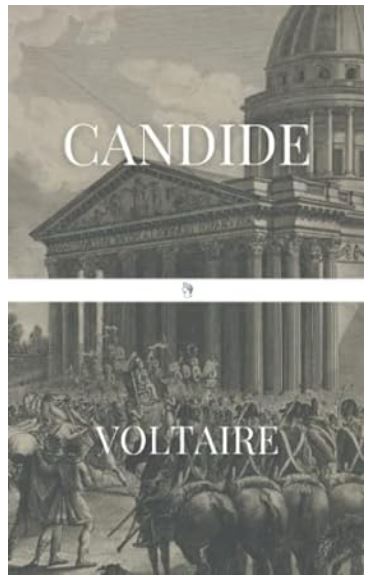 Candide has been described as one of the most influential books ever written. First published in 1759, it was written by Voltaire, a philosopher in the Age of Enlightenment. Candide is a French satire first published in 1759 by Voltaire, a philosopher of the Age of Enlightenment. It contrasts great tragedy with comedy and ridicules religion, theologians, governments, armies, philosophies and philosophers through allegory. Candide is recognised as Voltaire's greatest work and is taught as part of many history and philosophy degrees. It will certainly give your French vocabulary and grammar a boost! Read Voltaire.
Best Books for Advanced French Writing
Developing Writing Skills in French by Graham Bishop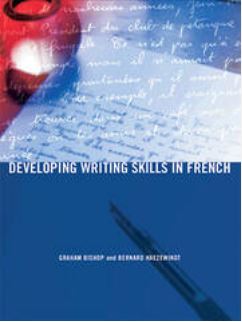 Based on an Open University course and written by experienced teachers, this book can be used for self-study for intermediate to advanced students who want to write more confidently in French. It has model texts, exercises and answers explaining different formats, style and language points.
The book helps you improve your register and style when writing in French. Each chapter gives the key learning points and there are a wide range of texts from different media. It'll also help you expand your French vocabulary. See Developing Writing Skills in French.
A-level French Writing Skills: Essays, Translations and Summaries by Karine Harrington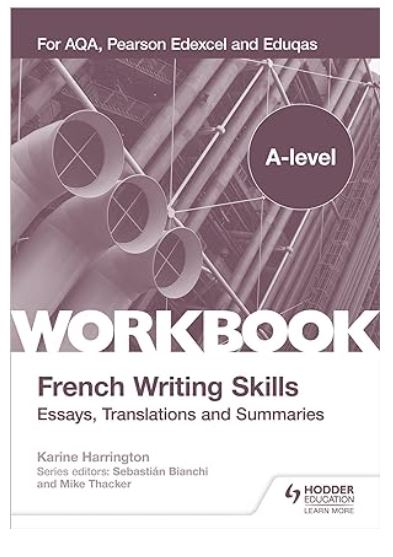 Designed for A-level students (upper-intermediate level, CEFR B2), this workbook will help you improve your French writing skills. It focuses on how to reword and reorder language using complex grammar. It also helps students organise their work and express themselves clearly, using a wide range of French vocabulary. Check this out.
Best Books for Advanced French Speaking
Advanced French Conversation by Lucy Martin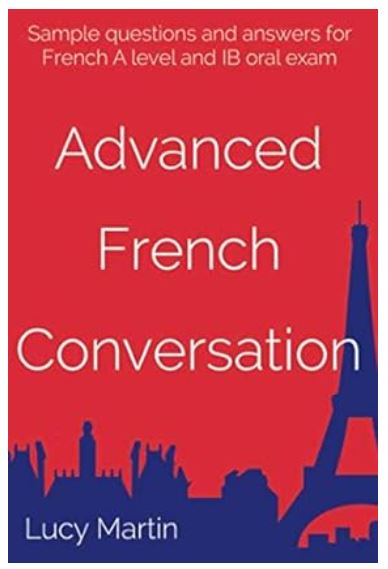 Designed for students sitting French A-level (upper-intermediate level, CEFR B2) or taking French as part of the International Baccalaureate, this book aims to improve speaking. It focuses on the topics that students may have to talk about in the exam. There are 120 pages of questions and answers in French to help students prepare for the exam and speak with confidence. Even if you're not sitting those exams, it's a good resource for improving your speaking in French. Check out Advanced French Conversation.
Speaking Better French: the Key Words and Expressions You'll Need Every Day by Saul H Rosenthal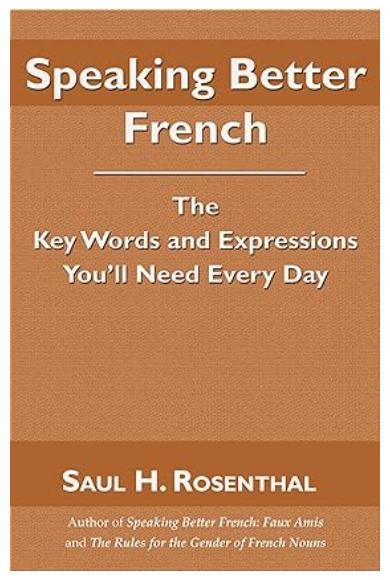 Reviewers have described this book as innovative and unique. It focuses on the essential words you need to converse naturally in French. It differs from the usual textbooks because it gives you the words and phrases French people use in everyday life.
Written in a conversational style, all the words and phrases are clearly explained and there are examples in French and their translations in English. Check out Speaking Better French.
Best books for proficient French linguists to expand their knowledge of French
If you're already proficient in French, perhaps you're a professional translator preparing for the CertTrans or DipTrans exam, consider using DALF C1 and C2 books and past papers.
TOP PICK: For C1 (advanced), try Le DALF, 100% réussite, C/C2, Book + CD (French Edition) here.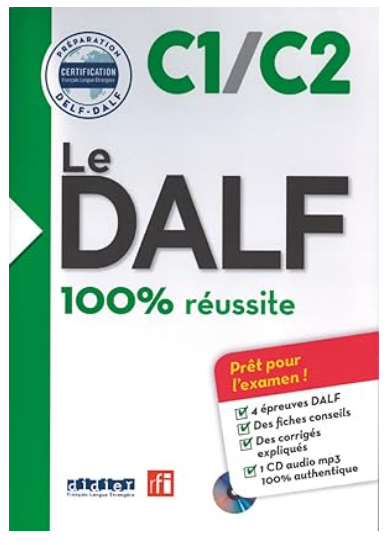 For C2 (proficient), try Dalf C2: Tests complets corrigés here.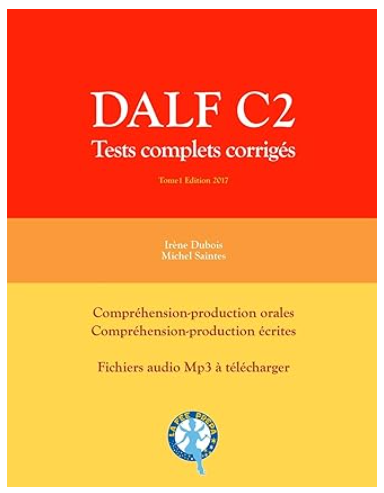 By doing short exercises designed to prepare students for these high-level language exams, you can take your language practice in small doses and see fast progress.
In just 20 minutes or less, you can enjoy the satisfaction of completing and correcting an activity.
Translation is a great way to improve your advanced language skills!
We hope you've found our recommendations useful. Remember, at The Translator's Studio you can learn the foundations of translation with the Translation Conversion Course, suitable for linguists with an advanced level (C1 or C2).
If you need a French bilingual dictionary, check out this article.