CIoL Diploma in Translation: Focus on Exam Paper 1 General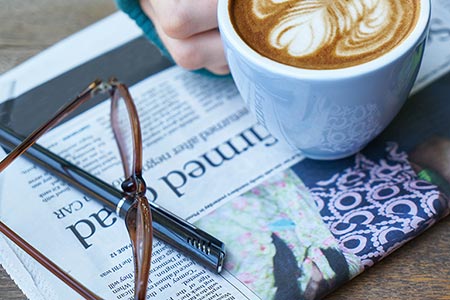 When you prepare for paper 1 of the CIoL Diploma in Translation, reading newspapers isn't just about broadening your knowledge of current events.
If you're preparing to sit the CIoL Diploma in Translation, it's important to think about the exam papers individually. Each of the three papers deals with a different text type. That means you have to apply different translation techniques. This article outlines the translation challenges of DipTrans paper 1, the general paper. It'll help you in your preparations to sit that exam.
What's in DipTrans exam paper 1, the general paper?
Unit 1 of the CIoL Diploma in Translation exam is a general text of about 600 words. You'll have three hours to translate it. The title "general" differentiates paper 1 from all the other papers. Papers 2 and 3 focus on what the CIoL calls a semi-specialised subject area.
The general paper is a journalistic article
The term "general" is misleading. Even though the content could relate to any matter of general interest, the paper is normally a high-quality piece of journalism. This means that the translation should also read like a high-quality piece of journalism.
Get the lowdown on the CIoL Diploma in Translation paper 1: general #t9n #DipTrans
Click To Tweet
Example topics from past DipTrans general papers
Here's a summary of the contents of recent Spanish-to-English DipTrans general papers in the CIoL Diploma in Translation exam. It'll give you an idea of the type of thing to expect.
DipTrans 2018, Spanish-to-English Unit 1: proposal to build a nuclear power station in Río Negro. Get more info in our DipTrans 2018 exam report, by former member of my DipTrans preparation course, Alexander Mollyneaux.
DipTrans 2017, Spanish-to-English Unit 1: Cuban dancers defecting. For more info, see our DipTrans 2017 exam report, produced in collaboration with former member of my DipTrans preparation course, Jessie Forbes.
DipTrans 2015, Spanish-to-English Unit 1: church criticism of society's growing tolerance of drugs.
"It's essential to remember what you're writing."
As you can see, in just four years, the paper dealt with the topics of energy, emigration, biography and drugs. So, it's difficult to know what to expect, though they all related to recent current affairs.
Reading newspapers to prepare for the general paper
One piece of preparation advice in the Diploma in Translation Handbook for Candidates is: "candidates are expected to read widely and keep abreast of current affairs so that they are not daunted by unfamiliar cultural references".
So, read as many quality publications as you can in both languages.
You need to read the source-text publications because the exam paper is going to be based on something from the source media. If you have background knowledge about the text that comes up in the exam, it'll be easier for you to understand it.
In my opinion though, focussed reading in your target language is even more important. Here's why:
To help you become familiar with the equivalent vocabulary used in your target language. Tip: focus your reading in English on issues that also encompass countries where your source language is spoken. This will increase your chances of reading about a topic that might come up in the exam.
To learn how to write like a journalist. When you read these quality publications, focus on the style of writing. You should try to emulate it in paper 1 of the DipTrans exam. If you haven't read much quality journalism, there's no way you're going to know how to write like a top journalist.
Sitting the #DipTrans next year? Here are some pointers on the general paper that you might not have thought about #xl8 Click To Tweet
What are the main issues you'll face with the general paper?
On the DipTrans preparation course that I run for Spanish-English translators, I notice that translators struggle with similar challenges. Here are a few that you may not have thought about.
Text type. As I just highlighted, they forget that this is a journalistic text. They translate in a style that would be more fitting to an academic journal. It's essential to remember what you're writing.
Register. Paper 1 is always from a high-quality publication, a broadsheet newspaper or equivalent. Sometimes the translators confuse a neutral tone with an informal one and use terms that would more fitting to a tabloid. Alternatively, they may get too formal, and write in an academic or even a legal register. This makes the translation more stilted than the source text.
Additions. Because DipTrans exam paper 1 is normally quite interesting, translators really get into it. They take too much possession of the text and start adding flourishes of their own. This information isn't in the original Spanish text, so the translation is inaccurate. An example of this is adding adverbs that aren't in the source text.
You'll meet these issues with the other exam papers too. But I've observed that the general unit seems to be the one they have the biggest impact on.
Timing issues under exam conditions
The general paper of the CIoL Diploma in Translation is the longest. Perhaps that's why the translators who train with me find it the most stressful for timings.
Make sure you go into the exam with a schedule for where you need to be and at what time. If you prepare with me on my Advanced Spanish-to-English Translation Course with DipTrans Preparation, I'll give you a suggested schedule. We'll look at your translation process and how you manage your timings. This is one of the many issues we'll discuss in your Skype tutorial.
Email me for more information about the course and to ask for your free level test.