DipTrans Study Plan for the 2021 CIOL Diploma in Translation Exam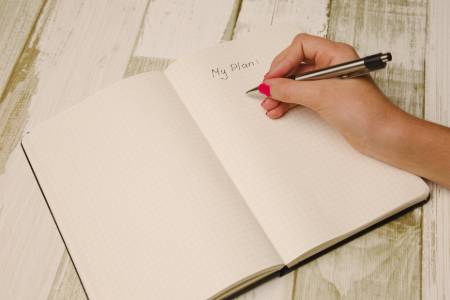 A study plan is a great way to help you make the most of the time you spend preparing for the 2020 IoLET Diploma in Translation exam.
The 2021 CIOL Diploma in Translation exam for translators will take place next January. This article will help you make a DipTrans study plan for the countdown to the exam.
The more preparation you do now, the more likely you will be to pass the DipTrans in 2020. Here are some ideas to help you make the most of the time you have left before the exam.
1. If you haven't done a preparation course, do one
A good tutor will be your strongest ally in passing the 2020 IoLET Diploma in Translation exam. They should help you work on exam strategy, and show you how to refine your translation, editing and proofreading technique. To be able to dedicate sufficient time to your course, start as early as possible in the year.
September is about the latest you will want to leave it to start. If you're a Spanish-to-English translator, look no further than my DipTrans preparation course. You'll love the extensive, personal feedback.
2. If you've already done a course, go back over it
Most courses to prepare for the IoLET DipTrans are modular. Plan to review one module a week or every two weeks between now and the exam. If they have module manuals, like my course, then review the content of each manual. And, most importantly of all, review your feedback on the translation you did for the module. This exercise will bring what you learned back to the forefront of your brain. That way, you won't repeat old mistakes.
3. Make a plan based on two-week chunks of time
You will need a written study plan. The temptation is to be overambitious and tell yourself you'll have time to do a bit every day. Kudos to you if you can manage that, but most people can't.
I'd start by identifying general goals (suggestions below), and then break each one down into a series of activities. Then I'd write out a schedule from now to the DipTrans exam and split it into two-week chunks. In each two-week period, I'd try to complete one activity for each goal. To ensure progress, the activities must all be completed by the end of each two-week period.
"Sitting down and figuring out your timings is a priority."
4. For the general paper, get with the news
You'll find detailed suggestions on how to approach the general paper in my article "CIoL Diploma in Translation: Focus on Exam Paper 1 General". Paper 1 is a journalistic text. The subject matter is normally taken from a leading publication in a Spanish-speaking country, sometimes El País. The publication is regularly from the spring/summer period. So, familiarise yourself with the news during that time.
For the English side of things, read a few good opinion articles every two weeks. Be observant while you read. Aim to learn the vocabulary and style the journalists are using so you can replicate it.
5. Make decisions about the different areas of style you might get tested on
Look over past papers and make a list of areas of style that you may get tested on in the different papers. Every two weeks, research one of them and decide what you will do in the exam if the area gets tested.
Examples include punctuating newspaper quotes, title case, when to capitalise job titles, punctuating dialogue, punctuating academic quotes and punctuating lists. Make your own document summarising the style you intend to follow so you can use it for reference in the exam.
"A good tutor will be your strongest ally in passing."
6. Review the finer points of punctuation
As with your stylistic choices, make a list of the main punctuation marks that cause you problems. Take 30 minutes every two weeks to study one of them. Translators who do my course make the most mistakes with commas, semi-colons, colons, hyphens, en-dashes and em-dashes.
Check out these useful ideas for making your DipTrans study plan.
Click To Tweet
7. Plan your exam timing and have practice runs
If you haven't done a course like mine that helps you plan how to use your time in the DipTrans exam, then sitting down and figuring out your timings is a priority. Plan how long you will dedicate to selecting your text (in the case of papers 2 and 3), the first reading, drafting the translation, checking the draft for accuracy, editing the translation, proofreading it and printing it out (computer option).
Then, try it out and refine it. Here are a few articles to help you find texts to practise for the IoLET Diploma in Translation exam: "How to Get DipTrans Past Papers for the Diploma in Translation Exam", "Essentials for DipTrans Exam Unit 3E Social Science" and "Free Translation of General DipTrans Past Paper (Spanish to English)".
8. Think about reference resources
It's worth spending 30 minutes every two weeks to think about your reference resources for the exam. There are the obvious monolingual and bilingual dictionaries, specialist dictionaries and a thesaurus. But beyond those, you're free to create any type of paper-based reference document you want.
These could include compiling a checklist of your favourite mistakes, to use when you proofread. You could also create your own style guide (you may find our "Spanish-English Translation Style Guide" useful).
In terms of glossaries, specialist terminology is potentially useful. The problem is that anything could come up in the exam. So, there's no way of knowing whether you'll create the "right" glossary. When I did the DipTrans, I made a glossary of linking words, which helped me in all the papers.
Lucy includes some good tips in her article "10 DipTrans Preparation Essentials", such as making a list of translations for the names of Spanish and international organisations and government departments. You could also create your own fact file with basic information about the Spanish-speaking countries in Latin America.
9. Find a study buddy
You could ask your tutor if they have any other trainees who are planning to sit the 2020 DipTrans. If they do, try contacting them to see if they want to form a study team with you. The two of you could choose a text to translate and then do a review for each other. Alternatively, you could look for existing translations online and critique them together. To avoid getting overloaded, I'd recommend doing this once a month.
10. Get a tutor to do one-off feedback
If you don't have the time or desire to sign up for a whole course, consider getting feedback on just a few translations. For Spanish-to-English translators, I offer resitter packs that comprise just three texts. I designed them for the DipTrans, but they're also popular among translators preparing for other exams. I will also quote to do constructive feedback on one-off translations. This lower-cost option provides a lot of insights that can give you that edge you need to pass your exam.
Got any other ideas to add to this list? Don't keep them to yourself! Comment below! Interested in training with me for the 2020 IoLET Diploma in Translation exam? Check out the course page or email me for advice on your specific circumstances.